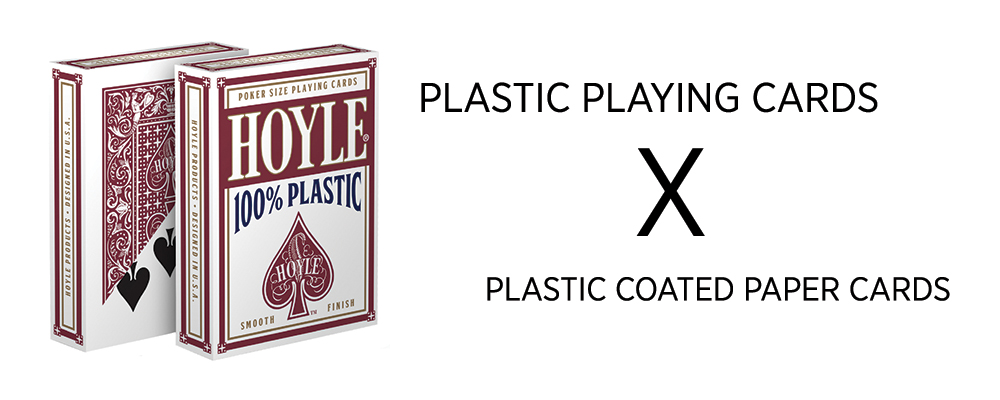 This is your most important decision when choosing a perfect deck. Plastic-coated paper has one significant advantage, they are inexpensive to purchase. If you use your cards sparingly, and you are gentle with them, you can expect to get many hours of enjoyable use out of them. Paper decks do come with some disadvantages though. They tend to crease, bend, tear, and show signs of wear rather quickly, and cannot be easily cleaned without damaging the cards.
If you play often, 100% Plastic playing cards offer important advantages over plastic coated paper playing cards. You can expect 100% plastic decks to last many times longer than paper, perhaps as much as 20-30 times longer. In addition to saving money over the long haul, 100% plastic playing cards will deliver the following advantages:
- Plastic playing cards are much more durable and resistant to bending, scratching, creasing.
- Plastic playing cards quickly "snap" back to their original shape.
- Plastic playing cards are easier to shuffle.
- Plastic playing cards are a pleasure to deal, they slide across the table felt easily.
- Plastic playing cards add a professional sense of quality to your game.
- Plastic cards are not easily marked by people who may be tempted to gain an unfair advantage.
If you have never played with 100% plastic, we suggest you give them a try, you won't be disappointed. All of the plastic decks we sell are top-shelf quality produced by reputable manufacturers. There are no bad choices on our website!