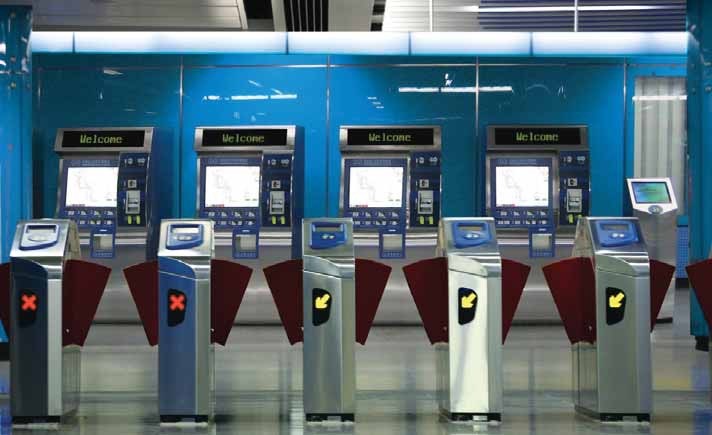 Automatic Fare Collection System (AFC) is a contactless smartcard-based end-to-end solution for fare collection and payment. The state-of-the-art solution is uniquely designed with the demand of revenue services for modern transit operation in mind. Furthermore, with the advent of smartcard technology and proliferation of its business applications, AFC also enables transit operators to expand revenue opportunities, exploit the benefits of payment integration with other transit operators as well as non-transit service providers.

Benefits of Smartcard-Based System ( HID ,FUDAN)
Improve efficiency and reduce operating and maintenance cost of fare collection for transit operators
Ease-of-use for commuters, increased passenger flow in and out of stations and transit vehicles
Open up proactive marketing opportunities. Multi-application capability and interoperability enable effective targeted pricing, loyalty programmes, cross-marketing with other services etc
Reduce fare-related fraud and revenue loss through open standard, secured transaction technology
Provide reliable and uninterrupted operation for train, bus, road toll and retail applications etc

Empoweringthru'Innovation
System Architecture
AFC is not a mere technology change replacing conventional magnetic tickets with contactless smart cards. It provides a complete, modular, standard-based open solution that meets the operation needs and revenue growth objectives. AFC is designed by a transit operator for transit operations.
Key Characteristics of AFC
Utilizes IS014443 Type A/B or C contactless technology
Fast and secured transaction using proven technologies (such as mutual authentication, DES algorithm etc.)
Able to integrate with new ticket media or existing magnetic ticket system
Scalable transaction database handles high-sustained transaction rate
A networked, distributed system using industry standard SNMP for system configuration and monitoring
Able to integrate with a variety of station equipment:
Fare Gates, Ticket Vending Machine (TVM), Booking Office Machine (BOM), Ticket Checking Machine (TCM) and Card Recharging Terminals
Can include Central Clearing and Settlement System for multi-operators and service providers
Central Computer System
AFC System consists of Central Computer System, Station Computer System and Station Equipment. For complex railway AFC System, the Central Computer System will consist of Central Clearing House and Line Central Computer System.
Central Computer System
Central Computer System is the AFC management centrewhich is responsible for generating reports, receiving ticketing data from station computer, sending control command, downloading system parameter and ticket price list to station computer.
Station Computer System
The primary role of the Station Computer is to provide the usage data collection, downloading of fare related parameters to the AFC equipment; control, monitoring and management of the AFC equipment. Its secondary role is to provide the station reports (if required) and support the sales office and customer service. It is able to function independently should there be a failure in the communication link with the central computer.
Station Equipment
These are all the front-end equipment/devices, which are used to serve the commuter. These consist of Ticket Vending Machines, Fare Gates, Booking Office Machines, Mobile and Hand-Held Terminals and Ticket Recharging Machines etc. Typically the requirement for each implementation may vary in terms of the quantity of the equipment/devices.